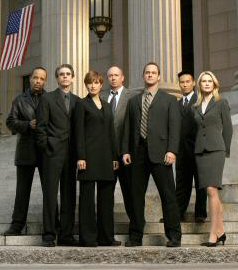 Munch: Okay, how the hell did we all end up in the same place at the same time? Cops? Vigilantes? A CS unit? Something's up here. *glances around with a grin* Tho' there are some fine bodies to look at. Fin, my man, you are a godsend! I owe you bigtime for this.
Fin: *shrugs with a sly grin* I told you, man. I *know* things. I know people. I got connections.
Olivia: *licks lips and mutters* Mama wants a little sugar... *grins sheepishly* I mean, I haven't seen this much nakedness in one place in a while.
Alex: *blatantly ogles Olivia* As long as it's legal, I'm game for anything you are, Olivia.
Elliot: Why am I here again? I've got kids and a wife at home. I can't...
Olivia: Stabler, just shut up and live a little, hunh? Vicarious thrills and all that? You might even learn something to make Cathy happier. Who knows?
Cragen: *glances around* I think I'm gonna go talk to Dectective Brass. That might be safer than dealing with you. Elliot, you with me?
George: *stares at Greg, whose still drooling over Nate* You know, I've always wanted to study the ramifications of homoerotica on the psyche.
Elliot: Okay, even I know you need to get laid, Huang.
Munch: Anyone seen that new redhead in the building yet? *notices Alex* Hey, Alex, what're you still doing here?